Allstyle Custom Cabinet Doors
We specialize in the manufacture of a wide variety of high quality, custom made wood cabinet doors and dovetail drawers suited for residential kitchens, closet systems, built-ins and bathroom vanities.
We offer over 10,000 unique door design choices since every element of our doors can be customized. Our catalog and web site illustrate our most popular designs. Our doors are available in a wide variety of wood species.
We provide retro-fit solutions for swapping IKEA™ cabinet doors and drawers with our high end product solutions. We have succesfully helped many customers with this already. We are beginning to add content to our IKEA™ retrofit page to describe the process and options. In the meantime call us (905-673-8700) or use our web inquiry form if you have questions about replacing your IKEA™ doors with Allstyle doors.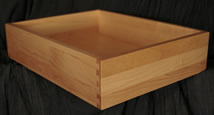 Dovetail Drawers
Premium quality finished drawer boxes with 5/8" Hard Maple sides and 3/8" thick bottom. Optional notch and drill for BLUM and HETTICH undermount slides.
Take a Two Minute Virtual Plant Tour
See more videos in our instructional video library.
Unfinished Custom Cabinet Doors in Two Weeks
We strive to keep our manufacturing lead times as short as possible but high quality, custom work takes time.
Shaker and basic style doors (unfinished) are 5 to 8 working days.
Mitered doors (unfinished) are 7 to 10 working days.
Doors with applied mouldings (unfinished) are 7 to 10 working days.
MDF routed doors are 6 - 8 working days.

Dovetail drawers (finished) are 2 weeks (10 working days).

High gloss doors (finished) are 12 working days.

Ikea Retro fit projects are typically 5 to 7 weeks.
Superior Quality Doors, Drawers and Finishing
We service the high end of the market where our reputation means everything. We purchase the best materials and manufacture with state-of-the-art equipment. We are highly efficient without compromise to quality. We solicit constant feedback from our customers to ensure we are producing the absolute best quality and designs of doors available anywhere.
We understand that the purchase of custom cabinet doors can be complex and the success of each project is in the details. Our service team is prepared to help you with each step of the process.

We stand behind our products and ensure your satisfaction. Our high rate of repeat customers is a testament to the success of our service and quality commitment. Our service team is ready to help you.
We accept quote requests in imperial, metric or decimal dimensioning.
Give us a call at 905-673-8700 or stop by our showroom and we will be happy to assist you.
Check out our FAQ (Frequently asked Questions) page, give us a call at 905-673-8700, or email us your question.