Dovetail Drawer Boxes
CLICK HERE to quote or order our Dovetail Drawers
Allstyle makes premium quality hardwood dovetail drawers with 5/8" thick sides and a 3/8" bottom.
Available in Hard Maple, Cherry, Walnut or Mahogany.
Our drawers can be pre-notched and drilled ready for BLUM or HETTICH undermount slide systems.
Can be ordered finished or unfinished.
Drawer Side Heights
Standard heights are designed to result in the top dovetail being split in half for the best appearance. If height is critical the drawers can be recut to any custom height required.

Standard Heights
(Recessed Bottoms)

Imperial

Metric

3 1/8

82

4 1/8

107

5 1/8

132

6 1/8

157

7 1/8

182

8 1/8

207

9

232

10

257

11

282

12

307
Maple Grade Options
Maple Select - Wood is chosen to provide uniformity. Sapwood, light and consistent in colour with no defects.

Maple Regular - Varied tones of sapwood (cream to caramel), little to no heartwood, minimal small mineral or black streaks, small pin knots accepted.

Maple Rustic - Wood is chosen to emphasize character. Darker maple with considerable variation of heartwood and sapwood mix, black and mineral streaking accepted, sound knots ok, no splits, no cracks, no open knots.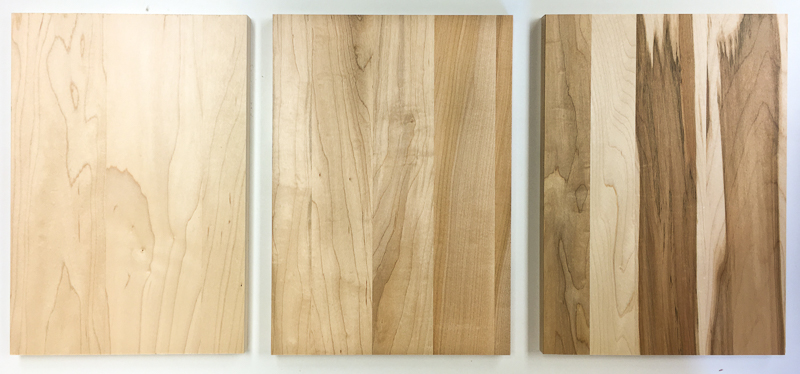 Flush Bottom Option
This option is available for side mount slide systems. When choosing the flush bottom option the drawer height is reduced 3/8" (10mm) from standard heights.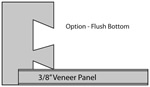 Standard Side Heights for a Flush Bottom Option.
Drawer Heights
(Flush Bottoms)

Imperial

Metric

2 3/4"

72

3 3/4"

97

4 3/4"

122

5 3/4"

147

6 3/4"

172

7 3/4"

197

8 5/8"

222

9 5/8"

247

10 5/8"

272

11 5/8"

297
Scoop Front Option
This option is available for internal drawers such as pantry pullout systems

Dovetail Drawers for Vanities
We make dovetail drawers for bathroom vanities with a pipe cutout. The cutout is sometimes called a pipe chase. This solves clearance problems around plumbing and drains. It provides maximum storage. Our pipe cutouts are typically 6" x 6" unless otherwise requested. If you are ordering a drawer with a cutout you will need to provide a drawing showing the position of the cut out.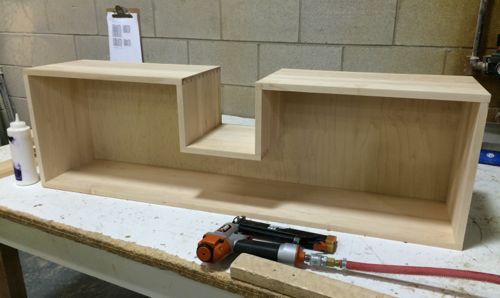 Slide Mounting Options
The majority of our customers are using Blum undermount slides.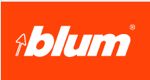 We recommend Blum's 560H Series Undermount Slides with Blumotion Concealed Full-Extension. These are self close and soft close. The forward and rear mounting points have adjustment to make installation alignment much easier. We have a functional display in our showroom. We can show you how to install, adjust and remove our dovetail drawers mounted with this slide system.
The 560H slides come in the following depths:
270mm (10-5/8")
300mm (11-3/4")
350mm (13-3/4")
400mm (15-3/4")
450mm (17-3/4")
500mm (19-3/4")
550mm (21-5/8")
Allstyle does retail these slides. Each pair of slides requires a pair of attachment clips.
What is Notch and Drill?
How are Allstyle's Dovetail Drawers Finished?
For more instructional videos click here.
Not All Dovetail Drawers are Made the Same - Compare Our Quality

Quality Alert - Ask if the material is Hard Maple, Soft Maple or Birch. The Hard Maple is more dense and strong.

Quality Alert - Ask if the bottom is 1/4" or 3/8" thick. The 3/8" bottom gives substantially more strength which is critical in larger drawers.

Quality Alert - Ask if the finish is one or two coats and if the lacquer is pre-catalyzed or post-catalyzed. Allstyle uses two coats of professional grade post-catalyzed lacquer for the toughest finish available.
Frequently Asked Questions

Q: I will be using the Blumotion Tandem series undermount slide. How do I calculate what width of drawer to order?
A: The Blum Tandem series slide needs 3/16" (5mm) clearance between the outside of the drawer and the inside of the cabinet wall on each side when the drawers have 5/8" thick walls ... which ours do. Measure the inside opening of the cabinet and subtract 3/8" (10mm) to determine the correct drawer width.
Q: Can you put our logo on our drawer order?
A: Yes we can! In order for us to burn your logo we need the artwork of your company logo, ideally in the form of a vector file such as *.ai or *svg. We can use a *.PDF or *.jpg file but there is extra work (extra charge) to convert it. It takes about two weeks to transfer your logo onto a solid brass head that we can use in our branding iron. There is a one time charge for the branding head. We will logo your drawers at no additional charge there after.
Home | About Allstyle Cabinet Doors | Products | Contact