Arched Cabinet Doors
Nearly all of our Stile and Rail profiles can be manufactured with arches. Typically arches are added as a design feature on upper cabinets with lower cabinets remaining standard. Drawer faces are nearly always standard style.
Arched doors require more time and craftsmanship and are a little more expensive.
Arched doors are considered to be a Traditional style. Arched top with a raised panel is considered to be even more traditional than a flat panel design.
There are six basic designs of stile and rail doors achieved by modifying the rails.
Mitered style doors cannot be be arched.
We've featured some of our best selling arched door styles below.
Cathedral
Double Cathedral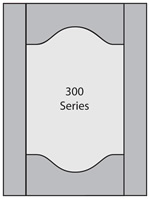 Double Cathedral Style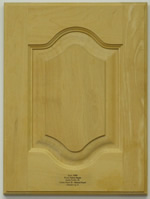 S300
S300-51-57mm-D-5
Maple
Roman
The Roman arch is sometimes called an Eyebrow Arch.