FSC Certification for Cabinet Doors
In 2014 Allstyle achieved FSC certification
At Allstyle we are committed to excellence. Not only do we strive to offer our customers the highest quality products available on the market today, it is our mission to do so while maintaining the highest social and environmental standards.
To live up to this standard we need to do more than just provide the best in craftsmanship. We have to consider the environmental and social impact of our company.
We decided to make a commitment. We wanted to do more to protect our environment. We decided pursuing FSC certification would support that mission.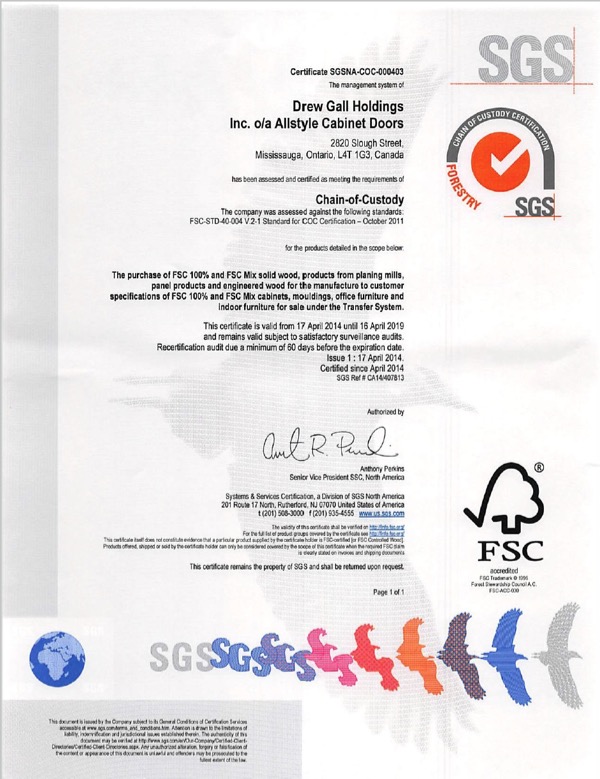 Why We Decided To Go Green
FSC Certification is a lot of work. And it carries a price tag.
We did our research and learned what it means to be FSC Certified. We discovered the impact it would have on our company and on our planet.  Ultimately we concluded that it was the right decision.
As a leader in the industry, we strive to do business in a responsible and sustainable manner. A FSC Certification is evidence of that commitment. FSC Certification adds credibility to our organization by meeting the strictest social and environmental standards.
What Exactly is FSC Certification?
So what is the FSC? And how does certification help the planet?
Back in 1993, illegal logging was on the rise. In an effort to combat deforestation an international, not for profit organization was founded.
Named the Forest Stewardship Council or FSC, the organization sought to protect forestland through sustainable management efforts.  Their certification standards promote ethical and environmentally sound business procedures.
But they do more than protect the world's forests. They aim to curb global warming as well as end social inequality and poverty alienation. Through the strictest of measures, they ensure environmental and social sustainability.
If you purchase a product with an FSC logo, you can rest easy knowing that it comes from a responsible source. One that protects the rights of people and the planet.
Of all the forest certification systems, the FSC is the most credible. It remains the preferred choice of government agencies and corporations worldwide.
Well-known nonprofit groups also support the FSC. Green Peace, World Wildlife Fund and the Sierra Club all recognize the FSC as the most legitimate and most rigorous certification worldwide.
The Audit Process
We found the FSC organization to be outstanding. We knew certification would improve the quality of our products. But the involved process also impacted our business in other ways. It raised the level of our company entirely.
FSC does not issue certificates itself. In an effort to maintain transparency, it relies on independent bodies to assess and certify forest managers and manufacturers.
To become certified, we had to first contact an FSC certification body. This body then conducted an audit to assess our qualifications and practices.
Were we nervous for that first audit! The FSC required a lot of organization and documentation up front.
Through the long process, the certification body needed to verify all our materials. All lumber has to come from forest managers who abide FSC principles and criteria. At each and every stage of the production chain, the FSC confirms that certified products remain separate from non-certified.
After a long collaborative effort, we passed inspections and achieved full FSC compliance.
More Than Just a Logo
Obtaining certification helped us become a more Eco friendly and sustainable company. But something else happened through the process. Something we had not considered …
Working with the FSC make us more aware of the global impact of our business. It also helped us to improve our company because the FSC inspection forced us to scrutinize our procedure and controls. We had to re-examine our business model in way we wouldn't have done otherwise.
The certification process involved our entire team. Every member played a part and contributed to meeting FSC compliance. It promoted teamwork and participation.
What It Means to Us
As a result, we have even more pride in our products. FSC certification has helped elevate our company and products to the highest social and environmental standards. We feel good doing right by the planet.
Remaining on the Cutting Edge
Our FSC certified status came with yet one more advantage that we didn't expect. It guarantees we remain at the vanguard of our industry.
Why is that? Because LEEDv4 now mandates the use of FSC products in all buildings.
What is LEED?
LEED or Leadership in Energy and Environmental Design is a rating system for the design, construction and maintenance of green buildings. The organization aims to help building owners make environmental decisions and use resources wisely.
Since the updated version, LEEDv4 requires the use of FSC certified products in buildings. Allstyle is proud to be a qualified supplier.

Helping to Make the World a Better Place
When you purchase an FSC certified product from Allstyle, you not only get a high-quality cabinet or dovetail drawer. You also make an impact on the well being of our planet.
Buying FSC certified means you directly help:
Protect Endangered Species. The FSC is the only certification that preserves rare and at risk forests and wildlife.
Protect The Rights of Indigenous Peoples. The FSC is also the only certification that consults with aboriginal people in addressing their needs and safeguarding their land.
Protect Community and Worker's Rights. FSC regulation guarantees workers receive fair compensation, the right to unionize as well as safe and healthy working conditions.
Your Values are Our Values
When you choose Allstyle, you choose sustainability. You make a real and conscious commitment to the planet and to our future generations. You support a business you can trust. One with the same environmental values that you hold dear.
You can have confidence in Allstyle products and in our company.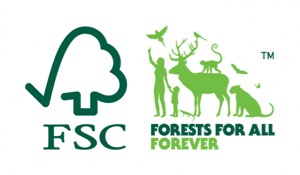 Home | About Allstyle Cabinet Doors | Products | Contact